Locomotives are Digitalized with TÜRASAŞ Eskişehir Regional Directorate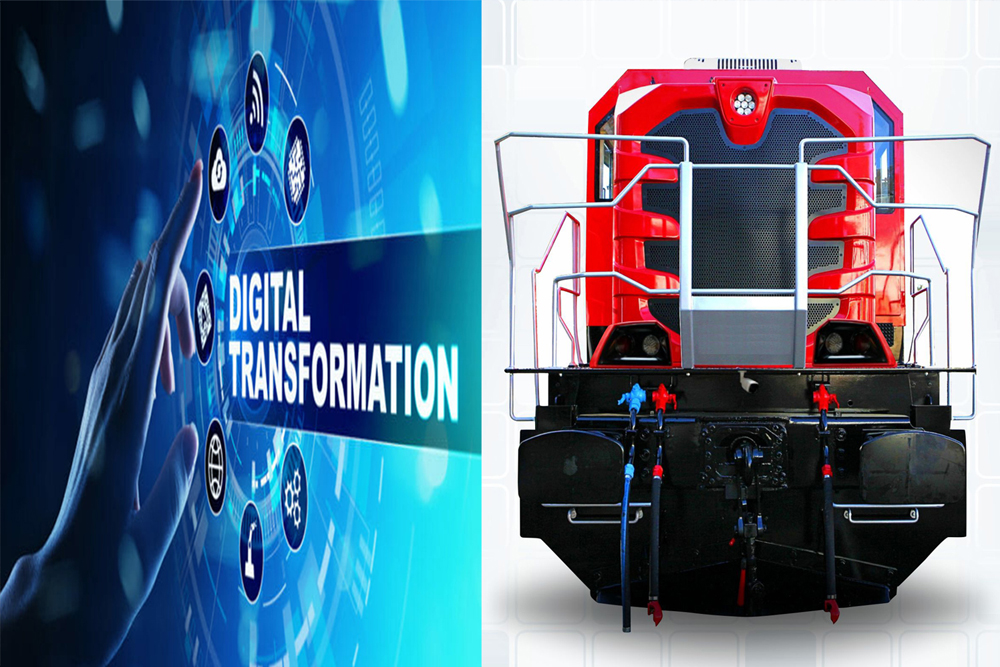 TÜRASAŞ Eskişehir Regional Directorate Digital Transformation Office first decided to transform the locomotive systems into a digital platform in line with the road map it determined as a result of its studies.
In this context, Turkey's first was carried out by local and national Diesel Electric Locomotives of all electric-electronic control system design and development work in the de10000 algorithms TÜRASAŞ Eskişehir Regional Directorate of R & D Center.
Real-time data received from the subsystems of the DE10000 National Diesel Electric Maneuver Locomotive with TLMS (Türasaş Locomotive Monitoring System), which is a part of electrical-electronic control systems; The software has been transferred to the machinist via HMIs (Human Machine Interface) with UIC612 standard user interfaces realized by TÜRASAŞ Eskişehir Regional Directorate personnel. In addition, by means of these softwares, around 200 data belonging to the related subsystems can be used for remote monitoring, diagnostic and recording purposes.
With TLMS, the information of units such as Vehicle Control Unit, Traction Control Unit, Diesel Engine Control Unit, Cooling Control Unit, Brake Control Unit are displayed. In addition, the availability of conditions related to starting, traction, diesel engine run, stop, idle commands, traction motor current, torque, speed, temperature, spin information, mechanic control inputs and some additional data for all systems can be displayed.
BENEFITS OF TLMS and VEHICLE CONTROL SYSTEM IN DE10000 LOCOMOTIVE
Thanks to the digitalization studies, the interaction between the mechanic and the locomotive has been made much more ergonomic compared to analog systems in old locomotives. In addition, the data constituting statistical value regarding the malfunction records, specific alarm conditions and locomotive usage habits of the driver will be recorded. Thanks to TLMS, which will make testing and fault finding easier in locomotive development, new system integration, breakdown repair and maintenance / revision processes, cost and time savings have been made in the aforementioned processes, making it easier to create the product suitable for customer requests on time.
Thanks to TLMS developed by TÜRASAŞ Eskişehir Regional Directorate's R&D Center, the experience required for the creation of the new generation TKYS (Train Control and Management Systems), accessing locomotive data via HMIs and integrating the hardware supporting GSM (Global System Mobile) technology Providing remote access to relevant data, creating the infrastructure of "cloud" and "Internet of Things" (IoT) technologies within the scope of "big data" management to perform statistical studies on the relevant locomotives, within the scope of "Predictive Maintenance". Necessary experience has been gained for the establishment of the necessary infrastructure for ensuring compatibility.
SYSTEMS INTENDED TO DEVELOP SHORT, MEDIUM AND LONG TERM
In the short term, hybrid locomotives, electric and diesel electric mainline and maneuver locomotives, diesel hydraulic locomotives and National YHT (High Speed ​​Train), including in diesel electric maneuver locomotives, in the medium term, TÜRASAŞ Eskişehir Region It is aimed to be produced by the R&D Center of the Directorate with minimum costs.
On the other hand, in the medium term, within the scope of Industry 4.0 compliance processes, the sensor, sensor reader electronic cards, GSM equipment and the "big data" management to be acquired, " Thanks to the experiences of "cloud" and "Internet of Things" (IoT), statistical data collection studies will be possible to detect malfunctions in advance.
Academicians and entrepreneurs will be able to apply the most advanced applications of the world on the locomotives of TÜRASAŞ Eskişehir Regional Directorate. In the long term, locomotive maintenance / repair costs will be minimized by fulfilling all requirements regarding "Predictive Maintenance", thanks to the statistical data collected over a long period of time regarding Industry 4.0 compliance processes and the expertise gained.